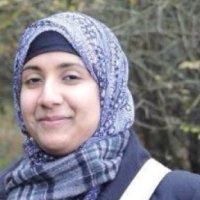 Today's guest post is from Masuma Rahim, on her clinical placement in learning disability. I invited Masuma's post for a few reasons – not just because she writes very well but also because she has some very interesting things to say about how the beutacratic scaffording of the public sector holds, or not, communities together.  Masuma has her own freshly formed blog over at http://masumarahim.wordpress.com/, and I invite you all over for a bit of insight. 
As part of the requirements of qualification as a clinical psychologist, you have to do a number of clinical placements. In the UK, one of those must be a six-month stint in learning disability.
I came into clinical training through a fairly unusual route, which meant that I had very different experience from that of many of my colleagues. One of those differences was LD – I had never worked in LD services, although I had worked with people who had some cognitive impairment. The criteria for LD are that you have an IQ (a controversial topic in itself) of 70 or less, that there is some difficulty in functioning, be that in academic settings or otherwise and that the difficulties are not the result of illness or a head injury; i.e. that they have been present from a very early age. (In the US, the term 'learning disability' is often taken to mean something like dyslexia or dyspraxia. In the UK we refer to these as 'learning difficulties'. It is not an easy distinction to remember, and even clinicians get the two muddled from time to time.) I was, it is fair to say, going in with little prior knowledge or experience.
Four months in, I think I'm starting to get a handle on working with this group of people. I am in a team which works with those with a learning disability and mental health problems. Not until I began to work in this area did I fully start to appreciate how marginalised some of the people I see are. I have long known that being perceived as having mental health problems can result in stigma and barriers and social isolation and I knew that having an LD was likely to do the same, but the interface of the two can sometimes vastly magnify the difficulties. This isn't because of the LD itself, nor as a result of the mental health problem – it is purely the result of the way society treats those who are different and of the way that some vulnerable people are exploited. I use the term 'vulnerable' carefully – not everyone with and LD or an MH problem is vulnerable and many people with neither of those labels are vulnerable. But in the Venn diagram of such things, there is bound to be some overlap.
One of the things I like about my profession is that, despite having spent a good few years working across a range of services, I regularly get angry. Not with the people I see professionally, but with the people around them. The fact I can get angry about the accommodation in which someone lives or the staff with whom they have to deal or the neighbours who make their lives difficult means I still care as much as I did when I chose  this as my career and that I still believe that change is possible. To my mind, it's when you stop getting angry that you should re-think the way you earn your living, because that anger signifies a passion for your work. I think most people come into this kind of work wanting to change things (whatever those things may be). The focus might shift over time, in the way that most revolutionary aims change over the course of years, but as long as the will and the belief is there, you can make a positive impact on the lives of the people who come and see you. Virtually everyone who I have met who works in LD still has a desire to change things for the better. Sometimes that's change which is recognised: those esteemed colleagues who write reports for the Department of Health and inform policy; more often, it's the people who do their jobs, day in, day out, trying to help people in distress make their lives better. It can probably feel like you're constantly pushing for the small victories, but as anyone in mental health will tell you, the small victories are necessary if you're ever to snatch the big ones.
So what have I taken from this, aside from a better understanding of the impact that disability can have? well, I've learned that even in an environment where NHS services are becoming more protocol-driven, there is still room for flexibility in service provision; indeed, you cannot run an LD service which is not flexible. I have learned that it is possible to get away from the language of psychology and psychiatry (a language I have always avoided, given that, like most specialist languages, it is designed to exclude those who don't understand it) and make our ideas accessible to everyone. I have learned that writing reports is made far more fun when you use 100 words and fifteen pictures. I have learned that working in LD requires a particular skill set, but that like all skill sets, it can be learned.
And I have been reminded of something too. I have always said that my job is one of great privilege. Strangers come into my consulting room and they tell me about their pain and their distress and their fears. They show me their vulnerability, a vulnerability that is sometimes so raw that you marvel at their resources. I have often been amazed at the strength and grit of the people that I see; speechless at the difficulties that have encountered and which have threatened to overcome them, but which they have not allowed to do so. Factor in the added stress of physical disability and cognitive impairment, as well as the adverse experiences that can result, and I have been reminded of the strength of human spirit, the resilience that many of us have (but which we perhaps don't know we have). And again, I marvel. And I think that with enough time and will, perhaps we will see the day when those with disabilities, of whichever variety, will cease to be marginalised and will be seen in the way the rest of us like to be seen: as human, with our foibles and neuroses, but with more binding us together than setting us apart.