I should introduce myself first, give you a bit of background on why I think I should be able to talk to you with any sense of authority or kudos. You see, I'm not highly qualified in disability, I've not done a degree in disability studies, read all there is to read about disability rights and issues or even lived in institutions designed to support people with disabilities.
What I have done though, is lived for my entire life (30 years and counting) as a disabled person; I have Muscular Dystrophy, in a mainstream world.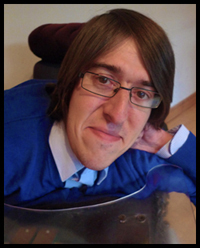 I am lucky in that my disability is that it has no cognitive impairment, so all of the impacts on my life have been physical. Physical barriers are the easiest for society to overcome, ramps, larger toilets and lifts are all considered to be ok, and not that out of the ordinary, so I've had a fairly decent time of existing in society.
I also have very proactive parents; they were instrumental in getting me to where I am today. My Mum and Dad knew from a very early age that apart from rather poor muscle tone, there wasn't a lot else wrong with me. They did all the things that you'd do with a young child, they read with me, created with me and most importantly of all didn't mollycoddle me! They also pushed our local education authority to let me into a mainstream nursery, a first for our county in the early 80s. This led onto mainstream education up until I was 16, when I then went to a specialist college to get that 'living independently' experience. From there I qualified, ended up as an SEN lecturer, moved onto working for a symbol support company, then a communication aid company, and lastly to being self employed.
Despite those three opening paragraphs though, this article isn't about me, its about a philosophy and way of thinking that started with my family and permeated my entire life. The theory that it doesn't need to cost a fortune, or even be a commercially available product to make a huge difference! Support for me was often put together with things from existing technology, a need was identified, and a solution was created from what was available.
I am acutely aware that I am from an engineering family that had the necessary skills to create things, especially my dad. I know that there are many disabled people out there that do not have those people to fall back on, but there are many skilled engineers and tradesmen out there who can help, who aren't in institutional services. To put the philosophy into context, I want to first just give you an idea of the kinds of things that were created for me, to give you a sense of what it was like growing up with a physical disability.
The earliest memory that I have, was sledging with my dad. Being a wobbly kid on a sledge, I spent more time face down in the snow than I did enjoying the ride! The solution? Bolt a backrest to the sledge and have a little strap around my chest to help me sit up!
How about the way that all children shuffle along on their bottoms? I couldn't do that either, so a plywood base, with casters and a chair that could swivel 360 degrees, and I was up there, getting into mischief with the best of them. Why not, I was just a normal child that couldn't move very well.
A little bit later on in my life, all the kids in our neighbourhood had pedal go karts for christmas. Obviously with my MD and no leg power I couldn't join in, the solution was to take an old go kart, fit an electric windscreen wiper motor and away we go!
It was this do-it-yourself mentality, and the idea of using existing technology to overcome a fairly uncommon problem that led me to create two products: CarePair and Articuloud.
Both products came from the idea that I could use existing technology to help with problems that disabled people face. To not reinvent the wheel, but to repurpose it, to suit a need that it had never been intended to do!
The first product I created was CarePair (www.carepair.co.uk), which came from a need I experience regularly, the need to find carers.
I employ carers using direct payments, a system whereby the government gives me a lump sum each month with which to employ people. The trouble with this system is that it is hard to find those people, and it is even harder to find ones that you get along with, and have the skills you require.
What you are essentially looking for is a service that can match you to someone with similar interests, and a few extra bits like skills and availability. Where on earth could you find a service that matches two people, based on things they may be interested in?  The answer… the internet and its plethora of dating websites!
It struck me, that actually the model, mechanics and algorithms that run dating sites could be reworked and tweaked to match skills, availability and all of the other important information you need to successfully pair a carer and a care user.
Working with Coventry University's HDTI, I hired a programmer and set to work, creating a site and app that allows users and carers to enter their information, and see a list of matches, ranked in similarity order. What could be more simple?
Best of all, because it uses existing technology, the development costs, although not insignificant, were kept to a minimum, meaning that I can provide the service for free, to all users, forever.
This is the beauty of using existing technology, if it doesn't need decades of research and development, it can be more affordable, and with the public services running out of money, we, as a society are going to be more reliant on self funding and this will mean a growth in affordable technologies.
The second of my products, Articuloud (www.articuloud.com), came from a need I identified in my job working with a communication aid company.
For those of you unfamiliar with communication aids, there are a variety that are under the umbrella of 'Text-to-Speech'. These TTS devices take the text that you enter into them, and process it through a synthesised voice and output the text as a spoken message.
Now, TTS systems can range from 69p to £100(ish) apps on iPads and android devices, to £3000 for a bespoke box that has similar functionality.
As with all things in life, you get what you pay for, so a 69p app is less likely to be as good as an app in the region of £100. However bespoke devices costing £2-3000 aren't necessarily better than an app on a tablet device, but they do have the disability tag, which in my experience inflates the price.
Which can be argued both ways, taking advantage of a dependent market, or years of R&D have gone into the devices and there is a limited market, but whichever way you look at it, its still high.
It occurred to me, after using the internet and cloud services for CarePair, I could harness that technology to provide a low cost, high functionality solution.
Going back to the days of bolting wheels to plywood and fitting electric motors to go karts, I decided to see what was available, rather than starting from scratch. I found web hosting easy enough and then I found someone had already made online text to speech functionality that was cloud based. From then on in it was a case of bolting it all together. I partnered with a programmer, and about six months later we had our very own TTS service.
Articuloud has text to speech, smart phrases and even location based technology, meaning you can program it to remember that you order a pint of bitter in the pub. When you return there next time, it'll use your GPS signal, and load up pub phrases as a priority!
The other clever thing, which makes it stand out from all of the other things available, is that because it is cloud based, it is truly device independent, all it requires is a browser that can play sound files . That means that if your device goes down, or you forget to bring it with you, or even if your condition progresses and you need a device with different physical access features, your communication aid can come with you. There is no need to learn new software, no need to make backups and transfer them, the nature of the cloud is that it is always with you, no matter what.
All of this functionality is available for £5 per month, via PayPal, so it really is as simple to access as possible.
If you add to that the fact that you can get an android tablet for £30 now (http://www.ubislate.co.uk/) you have a truly affordable communication aid!
Both of these products have been created by building on existing technologies, and what I really want to emphasise is that things can be created with what already exists.
The only reason prices for specialist pieces of equipment remain high is because they are considered specialist. If you repurpose an existing mainstream product, there is no need for the high costs associated with specialist technology, other than greed!
The thing I have learnt in life is that anything can be created if you know the right people, there are engineers, programmers, builders, all who work in mainstream areas, but given the challenge of creating a useful disability friendly device can work wonders, especially with existing technology and a bit of lateral thinking.
In my opinion, the old adage 'a square peg in a round hole' was always used by institutions to describe devices that worked but weren't clinically approved.
However with the rise in accessible, affordable technology, the mainstreaming of disability, and the challenges being opened up to the wider creative community, we are now seeing that with a bit of lateral thinking and repurposing that square peg can be shaped into a round one!