Today's guest post is on a issue that is very dear to me and to a lot of people I care about. Everyone should pay attention. I've touched on the overwhelming dominance of (well-written, touching, and insightful) disability blogs written from the point of view of a parent, and it's really nice to find a charity like Sibs that looks at things a little differently.
Today's guest blogger is Monica McCaffrey, the Chief Executive of Sibs, and I encourage all siblings, parents and professions to visit the Sibs website, which is a treasure trove of information and empathy.  The photo isn't supplied by Monica – it's me and my little brother, over a quarter of a century ago
Joe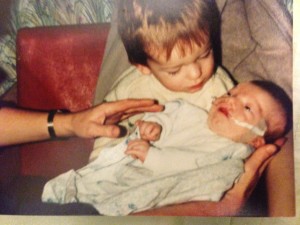 Siblings of disabled children often help care for and support their brothers and sisters, in a wide range of ways from helping them take part in playground activities to undertaking the type of care tasks that we normally expect of adults e.g., looking after their brother or sister during a seizure. Most siblings are very protective towards their disabled brothers and sisters, protecting them from bullying and public prejudice or checking that they are not in pain or discomfort.
But siblings also have needs of their own which may not be met. Siblings of disabled children often have to take a back seat in their families whilst their parents work hard to manage family life and provide the level of care needed for the disabled child. This means they often get less attention from parents, miss out on typical family activities, and they may get less support with their own health and educational needs.
At the beginning of 2013 Sibs launched www.youngsibs.org.uk – an online support service for siblings of disabled children. The siblings (aged 6-17) who use our service enjoy sharing their experiences in our moderated chat area and it has been lovely to see how supportive they are of one another. The siblings are often surprised that others have such similar experiences and this helps them feel less isolated, as you can see from this post:
Hey, I've just found out about this site and I'm not sure what to say really; other than it just feels really reasuring to know that I'm not alone, even though it sometimes feels like it.
I actually found it quite amusing looking at some of the other messages because for all I know, they could be describing my brother too! He has autism and particuarly at the moment, I am finding it really hard to cope with everything about having a special needs sibling. I would really appreciate any kind of tips at all that might help (although spending a lot more time with him isn't really an option at the moment because I'm really busy with school and stuff.)
Any tips? Thanks
They submit their letters to us asking for help with a wide range of issues including:
Parents treating them differently and feeling as though life is unfair
Worrying about the future e.g., when their disabled brothers and sisters start nursery or changing schools; or who will care for them when their parents are unable to
Caring for their disabled brothers and sisters
How to cope with difficult behaviour, which is the case for some children with learning disability or autism
Coping with friends who don't understand or laugh at their disabled brothers and sisters
Activities to do with their disabled brothers and sisters so that they can have fun together
Once they get in touch with us for help we can empower them to take action to support themselves e.g., encouraging them to talk to a parent about their worries, or we can advocate on their behalf with parents and teachers e.g., explaining to a teacher how being woken by their brother or sister at night is having an impact on a sibling's school work
Our service is improving the wellbeing of the siblings we support and helping them find ways of coping with difficult situations, at home and at school. During 2014 we want to help more siblings have access to our support.
So if you know a family who has a child who is disabled, has special educational needs or a long term illness, take some time to talk to the other child/children and let them know that the way they support their disabled brothers and sisters is hugely important AND that it is also important for them to have support in their own right. Let them know about Sibs.
Sibs www.sibs.org.uk is the UK charity for people who grow up with a disabled brother or sister.