Remember that we got a grant and we weren't sure what to make of it? Well rather a lot has happened since then.
I wrote a post on the Media Trust website:
We received a Google Ad Grant recently, that's pretty cool. We think. Like, it's $10,000 a month worth of ads, which is clearly awesome, but we've never really engaged with that sort of thing at all before. Plus, we're mostly furloughed at the moment. So, we are looking for someone who fancies playing with our Google Ads account. You'd start with a blank slate – we don't have any campaigns to run, or particular goals yet. What we do have is a fair number of interesting posts and resources we would like people to find, and it would also be cool if they signed up to our mailing list. If you drive up our website traffic by any significant amount then you'll have done a great job. If we get to the point where that converts into contacts and work for the charity, then that would be double awesome.
As a result of that stream of conciousness, a wonderful volenteer got in touch. In turn, she connected us with the Google Ad Grants Online Marketing Challenge, and now we have a team of students managing our Ad Grant.
This produced two cool things – firstly, ads are running and they appear to be having some effect.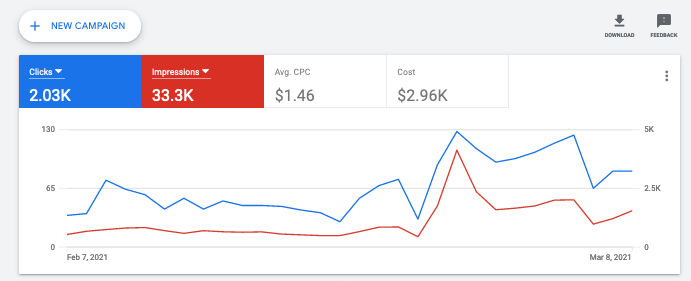 Secondly, the student produced a really thorough evaluation of our exisiting websites (for example, this one has an outdated design) and pointed out a bunch of small (and large) things I could fix. You can read the report they did below.
I'm still nervous about the whole thing – we haven't been able to show any real advantage to the charity from this yet (to be fair, the students have only just started) but I'm feeling a lot more positive than I was.