Nominet Trust, the UK's leading tech for good funder, has named The Open Voice Factory in the 2016 NT100 – a global celebration of this year's 100 most inspiring social innovations using digital technology to drive social change around the world.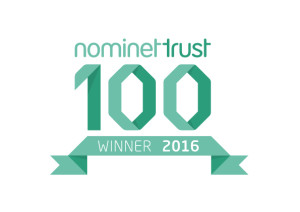 NT100 plays a valuable role each year in inspiring those with the influence and resources to accelerate the adoption of tech for social good.  It brings together entrepreneurs, innovators, NGOs, charities, technologists and others to share knowledge, experiences and skills to introduce social change on a global scale. Projects featured in the NT100 have wide-ranging purposes, from those determined to democratise access to quality education and healthcare, to those connecting minority communities and evoking empathy.
Following a global call for nominations earlier this year The Open Voice Factory was selected by a judging panel of tech and charity experts in recognition of its work. The Open Voice Factory provides free software that helps give a voice to people with communication difficulties. The Open Voice Factory aid displays a set of icons that represent words, which a user can look through to find the word they want to express and, once selected, their device will say this word for them.
This year the NT100 gives special recognition to 'Everyday Tech Heroes' — the inspirational people who have first-hand experience of the challenges they are tackling with tech. Joe Reddington is one of the co-founders behind the Open Voice Factory and Joe's younger brother uses AAC devices; "My little brother's life was changed by one of those tools," says Joe, "But it was £5000. The devices break down a lot, and the supply is not sufficient." The aim with The Open Voice Factory is to solve these issues and make AAC devices available across the globe.
Co-founders Joe Reddington and Kate McCallum met at an independent specialist college where she worked and where Joe's brother went to school. Joe and Kate both have younger brothers who use AAC devices, and they met when Kate was working at an independent specialist college, where Joe's brother went to school. When Kate created the world's first Creative Commons pageset, CommuniKate, Joe put together a demo where users could try it out. The popularity of this demo was unprecedented. Seeing this, Joe decided to spin the demo out into The Open Voice Factory, a program that can be used with any pageset, CommuniKate or otherwise.
Vicki Hearn, Director of Nominet Trust said: "In this, the fourth year of the NT100, it is truly humbling to see so many remarkable people from all walks of life embracing digital technology as a force for social good. We hope The Open Voice Factory's well deserved inclusion in the 2016 NT100 provides a valuable stepping-stone for their inspiring example of tech for good."
"With a bright idea, the right tech tools and a powerful desire to change the status quo, everyone has the potential to make a stand against the world's most pressing social challenges. The NT100 seeks to champion the pioneers doing just that, in the hope that it inspires others to follow in their footsteps."
As part of the 2016 NT100, The Open Voice Factory is standing shoulder to shoulder with other innovative ventures such as EVA Park – a virtual environment to help those with aphasia recover communication skills; Hand Talk – a Brazilian virtual interpreter that translates between spoken languages and sign language; Disrupt Disability – which has created the world's first open source wheelchair designs; BraveMind – a virtual reality therapeutic game that supports those recovering from PTSD; and Mine Kafon Drone – an airborne drone for detecting and removing unexploded landmines in communities trying to rebuild after conflict.
The 2016 NT100 was selected from 700 projects discovered this year through a combination of research and public nomination. Shortlisted projects were reviewed by Nominet Trust and a panel of partner organisations including: Big Lottery Fund, Cancer Research UK, Comic Relief, Nominet, Oxfam, Telefonica O2 and Skoll Centre for Social Entrepreneurship.
The 2016 NT100 projects are hosted on the Social Tech Guide (http://socialtech.org.uk/nominet-trust-100/2016), the world's largest interactive database of tech for good, which now showcases almost 1700 ventures.