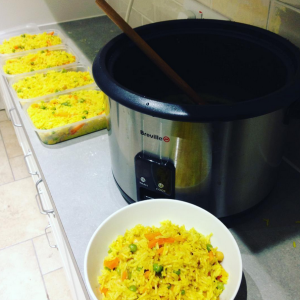 So this is my lunch from a little while ago.  Normally this is the sort of thing that wouldn't even make my own blog, but in this case it's important.
I was contacted a little while ago about an eating disorder project – people in recovery, their friends, families and other people around the issue submitted recipes .
That project became a book, which launches today.   In its own words:
Eating & Living is a recipe book for those in recovery from eating disorders – by those who have been there. This collection of recipes has been shared by people who are recovering or are recovered, carers, friends and family of sufferers, professionals and health experts – and each of them has told their story as to why this recipe matters. There's meals that evoke memories of childhood, those tried for the first time in recovery, those lost in the ill years and found again in recovery. Some stories are funny, some poignant – all of them offer a hint as to why caring for yourself with nutritious meals matters so much. Born out of conversations by patients on an inpatient ward, it is testament to resilience, hope and belief that recovery is possible.

With a whole mix of recipes for different meal times, tastes, and budgets, featuring a variety of ingredients, the book offers suggestions in a simple and safe format, and provides recipes for balanced meals to ensure that the nutritional and physical aspects of recovery are addressed.  This book offers support with grocery shopping, planning meals, cooking and eating and aims to play a role in helping individuals conquer those obstacles. Guidance has been provided by dieticians, to ensure that readers are confident in following the recipes.

The book communicates the message that there is no such thing as a 'good' food, but everything in moderation is ok, positive, and necessary in a healthy and balanced diet, and that meals are an important and enjoyable part of a happy life. Unique in both its origins from those in recovery, and its crowdsourced content, with recipes coming from recovery activists, healthy eating specialists, friends, family and more, it's a book that can have great impact.

Recovery is hard. But worth it. Everyone is worth having a healthy and vibrant life. The aim is that this book will enable individuals to make the changes and foster long term lifestyle change.

The money raised from sales of the recipe book are going towards B-EAT, the UK's national eating disorder charity.  B-EAT provides helplines, online support and a network of UK-wide self-help groups to help adults and young people in the UK beat their eating disorders. They campaign, raise awareness, organise events and offer support to change the way everyone thinks and talks about eating disorders, improve the way services and treatment are provided, and to help anyone believe that their eating disorder can be beaten.

Because it can. You can eat. And live.