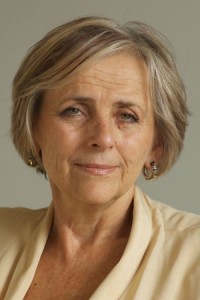 Today's guest post is from Fiona Jarvis,  who  established Blue Badge Style  in 2007.  I've been an admirer of BBS's blog for some time – they do a very good line in showcasing beautiful assistive design, and I encourage everyone to take a look, but it's definitely not BBS's main focus. I'll let Fiona herself take you through that…
Nothing in life is black or white, everything is full of shades of grey.
I'm not talking about the smutastic bestselling novel with fifty of them, but about the way we look at life. Things are never as clear cut as you may want them to be; things aren't necessary right or wrong, good or bad. This is true for everyone but it's pertinent, in more ways than one, for people, such as myself, with mobility impairments. Consider it in the most literal of terms and take a look at the majority of disability equipment: you'll find grey crutches, grey wheelchairs, grey rollators and more – everything in boring shades of grey.  You might call it NHS grey.
According to the Disabled Living Foundation statistics for 2008, the disability equipment market is worth £1.46Bn and growing at an estimated 9% pa. In my opinion this a market that is being completely under-served and treated as patients rather than the discerning customers that we are. There may be many shades of grey – charcoal, chrome, battleship and apparently forty seven others – but they all look pretty much the same to me. Drab, clinical and unimaginatively designed.
One of the reasons that I set up Blue Badge Style was to bring together likeminded people who don't want to put up with these dull and unfashionably designed, but essential, items. Things are improving and there are now more stylish mobility aids than there used to be. Take a look at websites like Designed 2 Enable, Glamsticks and The German Crutch Company and you'll see that there are some fashionable options out there. We highlight these on the Blue Badge Style website to let others discover them, but there's still a long way to go before a stylish lifestyle is equally accessible for all.
In essence Blue Badge Style is an accessible lifestyle guide for the discerning less able. Our basic ethos is that style and disability are not mutually exclusive and our aim is to ensure that wherever you go or whatever you do it is a positive, cool, fashionable and elegant experience. We track down those stylish mobility aids, we find out about the accessibility and disabled facilities at cool venues and we try to highlight – in a positive way – where the 'equal provisions of goods and services are unreasonably deficient'.
There are so many people out there who have a disability, visible or otherwise, who want to have better access to style. I know this because I am one of them. I first realised I might have MS over twenty years ago, when I kept falling off my high-heels. People thought I was drunk – and that was the confusing thing, as I could well have been. All these years later, a lot has changed but a lot has stayed the same too. I may use a wheelchair these days but I still want to go out, eat somewhere stylish and get drunk again every now and then (nobody's perfect). I'm not alone in this, but the problem tends to be finding somewhere accessible to go.
Up to 19% of the UK population is disabled and as we see more shades of grey as the population ages, this number is only going to rise. At the moment, we can't just book online like everyone else, we have to do a lot of questioning on the telephone. You can end up speaking to four different people and even then you can't rely on what they say. You just have to take a chance and hope the access is OK. Often friends or family will book on behalf of me, they'll ask all the right questions and when we get there and find an obstacle they feel terrible. I wanted to find ways to stop this from happening.
It's all about trying to get information to the people who need it. If you'll forgive a brief stat attack, in 2013 AccessChamp research, featuring 276 members of Disabled Motoring UK, found that 92.1% of less able visitors seek information about access online, but only 16.8% felt that they can always get enough information. Since the facilities are often already there, the key thing is getting the information out to potential customers. Little things make big differences.
We have created Pictorial Access Descriptions (or PADs) which individual venues can put on their websites as the perfect way to present access information. PADs assess a stylish venue from the point of view of the less-physically-able customer, giving them a high-quality, pictorial journey through a venue, which highlights the disabled facilities in public areas and rooms, as well as any potential obstacles. When it comes to finding out about access a picture's worth a thousand words – that's why PADs work better than access statements (which are rarely available anyway) and it's also why the easiest way to explain them is to see them for yourself. So here's a picture of how the PAD works.
Already used at the trendy Hoxton Hotel (check out their full PAD here), the PADs will enable venues to reveal their facilities and access in style, showing that they can offer guests cool comfort, not just access statement compliance. It's about letting people know what to expect. We less able people can cope with a lot; we just need to know what's coming.
After all, it comes back to those pesky shades of grey I mentioned at the top. Issues of accessibility aren't black and white. Something that one person may consider to be, for instance, "a small step at the entrance of the restaurant" may be quite a difficult obstacle for somebody else to navigate. We wanted to get rid of these shades of grey and lay out venues' accessibility in black and white with the PADs. We're saying no to NHS grey, no to grey areas in accessing access information and yes to Blue Badge Style at Blue Badge Style.