So we won the inclusive technology prize and it's time to, well, react to that.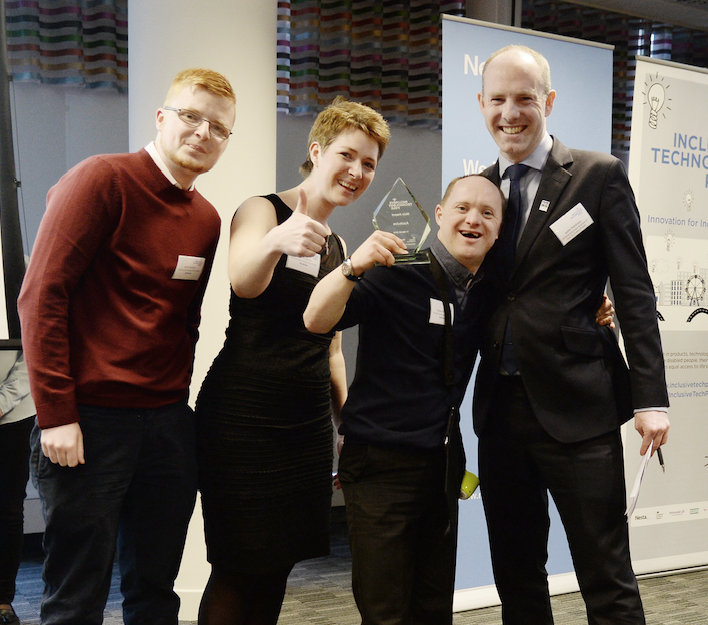 It's incredible on two levels.
We believe in AzuleJoe and Communikate, we believe that their time is now and that they can produce real change.  The prize publicity, and the funding that will come with it is a real validation of that belief.
This funding, and a solid project to pour ourselves into, also matters to eQuality Time.   We're funded up to our third birthday, which is longer than I dared hope when I started to put it together. By the time that happens, we'll have hit our grove nicely and we hope to be bringing forward a whole range of innovative projects.
There are a huge number of people to thank for us getting this far – lots of you are on our contributor's list here, but there are many others. Thank you for believing in us.
I should at least, tell the story of the awards. Unfortunately I wasn't there, being most of the way up a mountain in British Columbia. That was because I was in the middle of about three weeks of taking pictures like this:
https://twitter.com/joereddington/status/713096366948556800
On this particular day we sat in the cafe/restaurant at the top of the mountain. My phone was refusing Wifi so I was away from email and SMS. I borrowed my other half's phone to investigate. (Obviously she had to check Facebook first, that's a given)
I should say thatthought we were very unlikely to win. I suspected we were in the top three or so entries, but I thought we were far behind the leader.  Still worth having a Google.
After a bit of a search on a shaky  internet connection, I found this.
The amazing @Caras_Tweet did it!!! She's the winner of the #InclusiveTechPrize – check out her work! #startup https://t.co/bkWkvKBdem

— Solveiga Pakštaitė (@DesignBySol_) March 17, 2016
…and I was faintly pleased – Cara has a great concept and is a really lovely person to talk to.  Obviously I would rather it was us – but I was pleased that it went to such a good idea.
Scrolling down a little with my poor internet.  I find this (actually it was a tweet 'like' this, but  said the same thing)….
So we won! Thanks @nesta_uk pic.twitter.com/fP0cdputqT

— Mike Bourgeois (@mikebtweet) March 17, 2016
Wait… what?
Swiss Cottage (who's app I admittedly know little about) also won? Well done… obviously… but… didn't Cara just win? There's only one prize….
I eventually find the official Nesta tweet…
Congratulations to all our fantastic #InclusiveTechPrize finalists! https://t.co/FCzR2U0TyJ pic.twitter.com/fhLDXt266F

— Nesta (@nesta_uk) March 17, 2016
The tweet itself is unhelpful, but the photo begs the question "Kate, why are you in the middle holding a trophy?"
Eventually it became  clear: Nesta had awarded two 'secret'  prizes of 30k and 15k for second and third place.   I'm slightly unsure how I feel about this: we thought that there was only one prize so we set out our pitch in a very high-risk-high-reward way. If I had known that there was a second and third place I would have played it far safer in the application.   On balance I'm fine with it, but I suspect that if we had come 4th I would be quite unhappy.
I may have cried a little when we found out. But only because my other half was sobbing and that stuff is contagious. I think everyone else in the mountain cafe assumed I'd proposed.