Today's guest feature is  by Cory Thomas, CEO/Founder of The Traveling Barbers "Hair Professionals For The Disabled".  The Traveling Barbers, based in Trenton, New Jersey,  provide a home hair care service for the disabled community by send licensed barbers and hairstylists to the residences of those who has trouble making it out to a conventional barbershop or hair salon.   I asked Cory to put together some tips for anyone cutting hair in the disability space.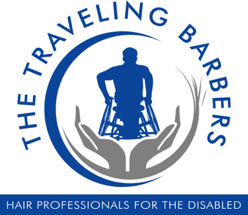 Make sure wheelchair wheels are properly locked.
Before beginning the hairstyling process this is always first on the to-do list. You don't want to ruin your client's haircut or hairstyle because of their wheelchair constantly moving while your trying to work.
Guard against flying hairs.
To safeguard your clients from the little hairs that can infiltrate their wheelchair when doing haircutting, using an old bed sheet can be good. It can rap around both the client and their wheelchair and stay in place with the use of a clip; it's a very handy tool.
Make sure your clippers aren't too sharp.
Clippers shouldn't be as sharp as they would be when working in an conventional barbershop or salon, so as to not hurt or bruise the client's head from any sudden quick motions that may take place with someone who has a neurological disorder.
Beware of the use of straight razors and scissors.
Avoid the use of sharp cutting instruments like straight razors and sharp scissors. Again sometimes sudden quick reactions can take place from the client, and when that does happen the last thing you want in your hand is something sharp; they also now make " safety hair styling scissors" that are great for this so problem.
Sometimes less is more.
When providing hair care it can sometimes be better to go the more "traditional" route as opposed to different kinds of elaborate haircuts and hairstyles. This can cause the hair care process to become much longer resulting in the client getting  frustrated.
Familiar faces provide a comfortable atmosphere.
Sometimes to get the best results out of your client and get the best hair care service, having someone who is familiar with the client in the room can put them at ease and sometimes in a more cheerful mood.