About 18months ago we featured Claudia Romero, who had just launched a clothing range for people with disabilities.  She's back to tell us how the story has been developing. 🙂
You can read the first part of the story here.
—————————–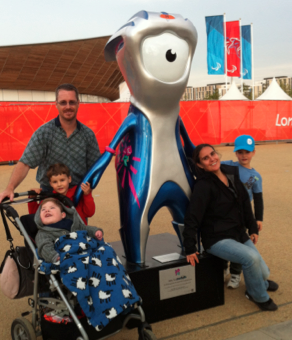 It's been almost two years since I told the beginning of my story creating CAPR-Style and we've come a long way since then. We have now created a full range of adaptive clothing for both adults and children. These are all adapted to make dressing easier, to combat a problem such as smearing or ripping of clothing, or for example to fit a wheelchair user better than a traditional garment.
This would all have been impossible without an incredibly supportive family and a strong CAPR-Style team. As we run the company from my family home, the two often blur but they combine well. It's been great to watch my two older sons show such interest in the day-to-day running of a business.
One of the biggest things we've had to overcome is getting our brand out there and aiming to change people's mind-set about disability. People often find it hard to admit they struggle and need help when dressing someone. We try to keep an active profile on social media and to attend as many events as possible where we can show off our garment offering. This is also a great way to meet people and get new ideas on what people need from their clothing!
The main thing we have to keep clear is that everyone is different. This is why hand-making each garment to order works really well for CAPR-Style. Each customer often needs a slight adaption on our base designs, added elasticated hems on the legs of a body vest perhaps or an opening on the left shoulder not the right. We offer as many options as we can, and a large part of our orders are bespoke to tailor for specific needs.
Our different body vests are certainly our best-sellers, however, I'm really proud of our range of jackets – the Kinlock Jacket is a go-to item for my own son Christian when we're going out and about Edinburgh. They all open on the front and the back, so the wearer can be easily dressed from either side. They also have adjustable cuffs to keep out the cold and ensure they don't get caught on things. The Ayr is designed specifically for wheelchair users – with a lengthened front. The Dunbar is a more traditional looking denim jacket from slightly warmer weather.
One of our biggest achievements since beginning CAPR-Style was being named Scotland's Most Innovative Small Business in the Great Faces of Britain Competition. In 2015 we were also shortlisted for awards from Creative Edinburgh, Mumpreneur and the Great British Entrepreneur Awards. These things are a reminder that we are doing a positive thing successfully. However, what really supports me through a hard day is a simple e-mail from a customer saying our garments have made a difference. This really pushes me to continue, to expand CAPR-Style, and to work with each individual customer to create something that really works for them!