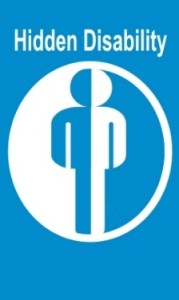 Laura Bryges talks to us about the Hidden Disability Symbol.
In 2009, I introduced the Hidden Disability Symbol on Facebook. This was four years after a car accident that left me with a traumatic brain injury, prolonged post concussion syndrome, major depression, fibromyalgia, and chronic pain. And now, in 2015, I am proud to say that the symbol is thriving.
The symbol was my attempt at making my independent forays into the world feel a little more safe and enjoyable. Noise and busy places cause neuro-fatigue, leaving me slow to respond, overwhelmed by my senses – especially movement and sound – and needing to find a quiet place. Restaurants, stores, buses, waiting rooms were all overwhelming to me. Add in muzak, babies, or people making requests, and I shut down.
So, applying my limited desktop publishing skills, I designed a symbol on a wallet card to help me communicate my needs for me – just in case I couldn't do it myself. The result was the first hidden disability symbol. A figure filled with black and white checkers on a disability-like blue background. But the checkers soon had to go – they were too much visual information for many people.

With lots of input, I developed a number of alternate designs, and did an on-line survey to figure out just how good the whole symbol idea was. That was in 2010. The survey results told me people liked the idea, and felt that both a symbol and a wallet card would help. From 6 proposed designs, the current one  — number 2 — was the most liked.
Back in 2009, while attending a conference about accessibility to art exhibitions, I was informed that it was politically incorrect to label a person as disabled. I have no idea what the politically correct choice is now. But, in truth, I do not care. I need to label myself as disabled if I am going to be able to go out into the noisy and busy world, on my own and feel safe and secure. And it seems that 5.4k followers feel the same way. There has been no hesitation to use the symbol and the 'Hidden Disability' descriptor on their part.
Born in 1960, I witnessed the 1969 introduction of the International Symbol for Accessibility (ISA). I saw formerly house-bound or institutionalized people enter a more welcoming and accommodating society. I witnessed how steadfast and effective advocacy brought social awareness of the needs of the visibly disabled, and how that awareness became acceptance, created legislation, and evolved into societal support. But now, with 10 years of hidden disability experience under my belt (or should I say hat?) I must ask if societal support has gone too far. Two of the most common issues page followers have made comment about is having been verbally and physically accosted by ill-informed members of society who take it upon themselves to protect ISA parking spots or seats from people who are not visibly disabled.

Thus, many users of the Hidden Disability Symbol are happy to use the label and the symbol – and are now printing it as a window decal for display in their car, or pull it out of their wallet when being challenged. I think they appreciate the versatility, adaptability, and individualization of the symbol. Descriptions of the user's needs can be printed on the back of the wallet card, and words of the user's choice can be printed below the symbol. My wallet card says "Brain Injury".
People using the card are expressing thanks, with an intense level of excitement, or relief, that something out there is going to help them. I have been moved by degree of appreciation people have sent my way. And all I did was have an idea and post it on Facebook!
The digital file for the symbol can be copied and used for personal, non-profit/non-commercial use. And it is being well used. Following some recent media coverage in Canada, the symbol is now in use in North America, the UK, China, South Africa, Hungary, Australia, New Zealand and one user in Belgium commented that she passed another user's car with the symbol in its window. Small world! I have complete faith that the symbol will continue to go where it is most needed and useful. I want it to find its own path.
If you, or someone you know has a hidden disability and wants to use the symbol, just go to my Facebook page, Hidden Disability. Please post a comment about where you live, and share your success (or not) story.
For those who may have unique uses, questions, comments, or ideas for the symbol – please email me at hiddendisability@rogers.com. It may take some time for me to get back to you, but I eventually will. I really want to get feedback and start discussions about the symbol's future.