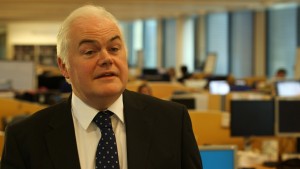 Note from Joe – I get a lot of press releases in my inbox and I generally ignore them (my goal is content that is both original and timeless, and most of my readers are technical enough that I need pretty technical content; so press releases really aren't the way to my heart)  On this occasion though I was interested in enough in a Natwest press release to contact them and offer the designer the chance to talk about the technical challenge of creating an accessible bank card.
Cards can be marvellous things, the comfort of knowing you can pretty much go anywhere and your card will work. You could be in a remote village in Africa, 35,000 ft. in the Air or maybe using one of the two cash machines at the South Pole (yes they really have those in the South Pole Base, they dispense US$). Have you ever wondered how it is all possible?
A typical Visa or MasterCard can be used at over 29 million locations and over a million cash machines worldwide. In order to make this possible the card schemes have all agreed to adhere to global standards for cards and the machines which take those including cash machines. In order to make sure issuing members and terminal manufacturers follow those standards each card design or terminal design needs to be certified by the card schemes. There are what is known as ISO standards for card shape, size, embossing areas and thickness and something called the EMV standard for Chip Cards.
Normally when you design a new card you are just thinking of the colour and branding, but any project where you propose changing the agreed global shape or physical attributes can prove challenging for a number of reasons. Firstly you need to prove that what you are doing won't cause an issue with any of the terminals or cash machines globally and secondly you need to have the design approved by the card schemes to allow you to issue it. There is actually a third factor too, can it physically be done? Inside the card are electronics, for example a Contactless card has an embedded antenna which runs round the edge of the card. If you cut into that it won't work for Contactless.
The impact of a card not meeting global standards can be significant. Not only may the card not work in certain locations or types of terminal or cash machine, but the card can actually damage the device or the device can damage the card. Cash machines in particular are sensitive to the card shape and embossing since they have 'feelers' to ensure the card is position correct and can be pushed back out safely to the customer.
In designing the Accessible Debit Card we worked extensively with our card manufacturer and the Visa card scheme to understand what was possible given the constraints. Visa suggested the notch size and its position since they had already done some tests which indicated at that location and size it would not cause an issue for card use. What had never been done before however was adding an embossed identifier near the edge of the card. Ideally we wanted it to be able to be felt without removing the card from the wallet. We looked at the top of the card but that area is fully utilised by the Contactless antenna and the magnetic stripe, neither of which can be embossed into with causing usage issues. The location we choose meant the embossing we well clear of all the card electronics but as near to the edge as possible for use in a side loading wallet. Even so we needed to produce a number of prototypes with different embossing positions and configurations. We tested those in a lab in London which has all the different makes of terminals and also in cash machines, initially RBS ones only on bank premises.
Once we had a number of concept cards which we knew would work we took them to the RNIB and they supported us in conducting customer tests where blind and partially sighted people tested being able to identify them accurately and gave feedback on the design. We worked together with them to agree a final design which met the needs of our customers and also the card scheme requirements. One thing which came out of that research was that many blind and partially sighted customers don't read Braille so actually generic markings using a series of dots where the preference. We looked a layering ink to create 'feelable' markings but many blind or partially sighted customers also suffer from diabetes which effects their ability to feel very well so embossing was the preference.
One important consideration was that we wanted the card to work for blind as well as partially sighted customers so using colours and ink to define an identifier or a card orientation aid was not an option. We also wanted our blind and partially sighted customers to be able to have the same card as everyone else rather than a special 'disability card' which perhaps labelled them as being different. So for example if a customer has a Black Account they get the same 'Black' branded card as everyone else but with the supple features added to help them use it.